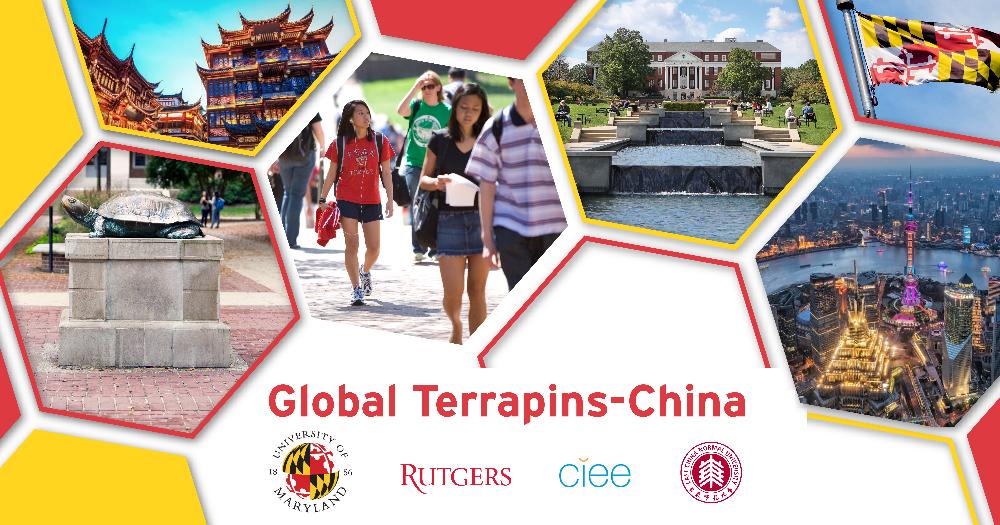 In partnership with Rutgers University, the non-profit Council on International Educational Exchange (CIEE), and East China Normal University (ECNU), one of the most prestigious and Class A Double First Universities in Shanghai. the University of Maryland offers an in-residence program for first-year students in China for the 2020-2021 academic year.
On the Global Terrapins-China program, you will receive 13-16 academic credits, all taught in English, that will keep you on track with your UMD degree. You will also participate in a dynamic residential community, living and studying together with other University of Maryland international students. The price for participating in this program is comparable to regular cost of attendance at the University of Maryland.
**A $1,500 tuition scholarship will be awarded to students who enroll in this program and an additional $1,000 scholarship is available for students who select program housing**
Students admitted to the University of Maryland as first year international students with citizenship in mainland China* are eligible for this program. Participants must be 18 years of age by Aug. 28, 2020 for fall enrollment and January 24, 2021 for spring enrollment. 
The Global Terrapins: China program is a voluntary option for first year continuing and newly-admitted UMD students in lieu of a UMD semester fully online or deferring admission to a future semester.
* Citizens of Hong Kong, Macau, and Taiwan are eligible with proper travel permits and contingent upon government and health regulations.
Enrolling in this program is quick and easy! To enroll in this program for spring 2021, complete the following steps by November 18, 2020.
Establish your UMD directory ID and password if you not yet set this up. Once you have created your directory ID, come back to this page.
Click the "Apply Now" button at the top of this page.
Log in to the MyEA portal with your UMD Directory ID and password.
Read and complete all of the requirements in the MyEA portal.
The deadline to enroll in this program for spring 2021 is November 18, 2020.
Once you have completed all materials, a program deposit will be charged to your account and your enrollment in this program is confirmed and program staff will follow up with you about next steps. 
 
Global Terrapins - China students will take a combination of in-person and online courses. UMD advisors will guide you through course selection and advise on how coursework satisfies UMD degree requirements. All courses will be taught in English. In general, your academic program will look like:
Recommended Course
IDEA200/PLCY200: Designing the World's Future - The Sustainable Development Goals (SDGs) stand as a blueprint to achieve a better and more sustainable future for all. Adopted by every member of the United Nations, the SDGs touch on all aspects of society, from poverty to equality to the environment. Is it realistic to create a blueprint for the world's future? Are the SDGs actually achievable? Is this global framework relevant to the issues facing local communities? Students in this course will tackle these questions, learning from the founders of the SDGs and leading experts working to implement the goals around the world. Students will also work collaboratively using design thinking principles to apply this global blueprint to local issues.
On-Site Courses taught at ECNU
You will choose and take two in-person courses with Rutgers students at ECNU that are approved by the University of Maryland. 
Below is a tentative course list that will be offered  for spring 2021. This list is subject to change. 
| | | | |
| --- | --- | --- | --- |
| UMD Equivalent | Course Name | Credits | Notes |
| MATH140 | Calculus for Math & Physical Sciences | 4 credits | Counts as Gen Ed FSAR, FSMA |
| MATH141 | Calculus II for Math & Physical Sciences | 4 credits |   |
| CHEM131 | General Chemistry for Engineers | 3 credits | Counts as Gen Ed DSNS. In order to count as Gen Ed DSNL or if you plan to take additional CHEM courses at UMD, students should co-register for an online UMD section of CHEM132. |
| COMM382 | Intercultural Communication and Leadership | 3 credits | Counts as Gen Ed DVCC |
| BMGT220 | Intro to Financial Accounting | 3 credits |   |
| PHIL261 | Environmental Ethics | 3 credits | Counts as Gen Ed DSHU |
| Not approved for UMD students | Intro to Statistics for Business | 3 credits |   |
| lower-division general credit for CMSC | Computer Science Data Structure | 4 credits | Does not count towards CMSC major requirements. |
University of Maryland courses
You will select 2-3 courses from UMD's course catalogue with guidance from your academic advisor. 
You will need to ensure that you are registered as a full-time student according to UMD requirements. This means you will need to take 12-16 credits during the Fall 2020  or Spring 2021 semester with a combination of both online and on-campus courses.
Global Terrapins-China students will benefit from a range of student life services aimed at fostering community and supporting first-year students.
Global Terrapins-China students may live in good quality housing in double-occupancy rooms with private bathrooms and showers. A Residential Advisor (RA) will live among the students to provide additional student support. In-person extracurricular activities will be organized for Global Terrapins-China students. Students may take advantage of the many online opportunities that will be offered to all University of Maryland students, and there will be special virtual opportunities for international students. All participants will also have access to the many resources available to UMD students on campus including online library access, student services, virtual programming, and other services.
Academic Calendar
In-person courses: will start according to our on-site partners' calendar of February 27th through around June 12th (tentative). Students will need to arrive in Shanghai on February 27th for check-in and move in.
UMD Online classes: will be according to the UMD spring semester academic calendar of January 25th through May 19th. Online classes will start before in person classes, and will not require students to attend ROSE facilities until the start of in-person courses.
With a combination of online and in-person courses, the semester will start January 25th and conclude around June 12th.
UMD students can select between housing options that include program off campus housing or commuting from home: 
Program Housing: Students who opt into program housing for spring 2021 will stay at an off-campus hotel. is tentatively planned for Atour Light Hotel (上海宝山长江路亚朵轻居酒店) located at 500 Changjiang Rd, around 2km away from the Baoshan Teaching Facilities. If any changes, we will let students know.

Note: There are limited spots in program housing and it will be available on a first come first serve basis. Students will be required to pay a security deposit directly to the hotel at check-in in addition to the cost of housing. This is generally a refundable fee upon proper check-out of the space following the end of the semester.

Meals: Breakfast is included with the hotel housing.

Internet: program housing and classrooms are equipped with internet connection.
 

Commute: Students have the choice to waive program housing and commute to the Baoshan location from home. Students  may opt out of Global Terrapins housing and commute to campus from home. Students who choose to commute will retain access to all campus facilities and resources below with their ECNU cards. 
Costs listed are for Spring 2021
Standard UMD tuition and fees apply for this program.
Scholarships
All students enrolling in this program for spring 2021 will receive a guaranteed $1,500 tuition scholarship.
Students who opt into program housing for spring 2021 will receive an additional $1,000 housing scholarship.
Deposit 
Upon enrolling in this program, a charge for a $3,500 tuition deposit and a $1,500 housing deposit (if applicable) will be placed on your student account and will be payable to the University of Maryland in November. 
 
PROGRAM FEE (billed to your UMD account)
  Tuition 
$17,468
  Fees
$977.50
             Total program fee     
$18,445.50
 
OUT-OF-POCKET COSTS 
  Housing
$0 - $6,300
     Double Occupancy - $3,180
     Single Occupancy - $6,300
     Commuter - $0
 
 
  Meals (estimate)
$1,500
  Travel (estimate)
$300
  Books & Classroom Materials (estimate)
$250
  Local Transportation (estimate)
$300
  Personal Expenses (estimate)
$1,000
Total out-of-pocket costs     
$3,350 - $9,650
 
 
 
 
TOTAL ESTIMATED COST OF ATTENDANCE
$21,795.50 - $28,095.50
Malik Blue, Program Coordinator
mblue@umd.edu
+1 301-314-7794


Malik works closely with all first year program participants to ensure you have support at all stages in the process. You will also get to know Malik as your program advisor and will meet with him throughout the semester to learn about the resources available to help make your journey as a Terp a success.
Malik has over five years of experience working with college students on international programs and in resident life. He is available to speak with you over the phone or video chat and can answer questions about your application, admissions, logistics, academics, finances, housing, and engagement opportunities. 
Term
Year
Application Deadline
Admission Notification
Program Start
Program End
Spring
2021
11/18/2020
11/13/2020
01/25/2021
06/12/2021
The start date above represents the date that online classes start. In person classes start on 2/27/2021 and end on 6/12/2021.