Summer Global Internship (Virtual)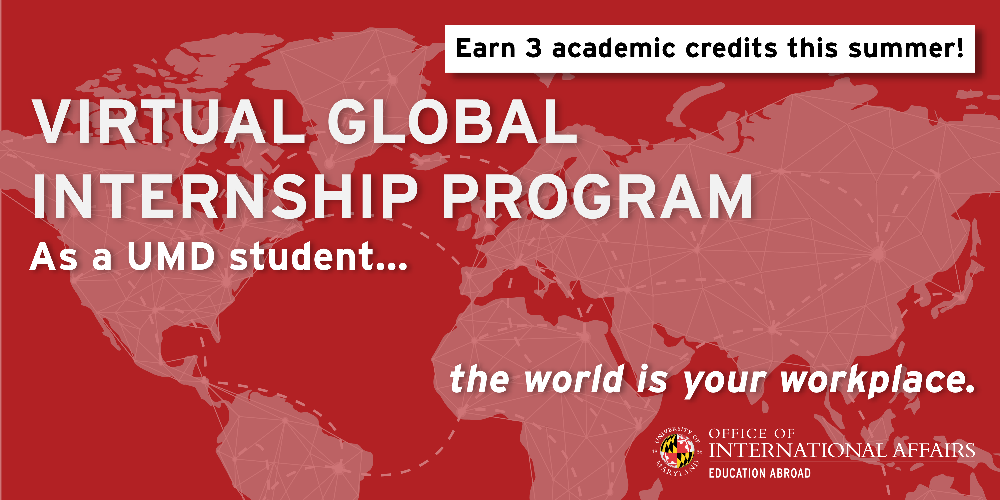 The world is your workplace!
In an age where we are all connected through digital ties, there is nothing stopping you from gaining real-world professional experience with virtual internships around the world. 
Learn to work and excel in a global environment with international colleagues, gain remote professional networking and social skills and learn how to communicate and operate in an international context. Whether you are working on marketing strategies for a food sustainability charity in Sydney, conducting policy research for a criminal justice project in Dublin, or building a website for a tourism agency in Florence, a virtual internship will prepare you for life after graduation. 
Through the Virtual Global Internship program, you'll work with UMD's partner organization to land an internship placement that directly connects to your interests and career goals with high profile organizations and businesses in Barcelona, Dublin, Florence, London, and Sydney. 
Complementing your professional development through your internship responsibilities, you will benefit from learning in ARHU268 or ARHU486, a 3 credit course.
By participating in the Virtual Global Internship, you can expect to:
COLLABORATE with and learn from professionals in a national and international context
ACQUIRE experience in your field from a global perspective
GAIN exposure to, understanding of, and appreciation for diverse work cultures and practices
DEVELOP intercultural communication skills and emotional intelligence
PERFORM meaningful work while developing specific vocational skills
BUILD professional and social relationships with international references
EARN academic credit through the required Global Internship Course
ENHANCE your resume and professional media presence
IMPROVE your employment prospects
EXPAND your global commercial awareness
LEARN how to effectively articulate your learning experience and newly developed skills to graduate schools and hiring managers through in-class workshops and a live mock interview assignment
This program runs through a partnership between Education Abroad, the College of Arts and Humanities and CAPA: The Global Education Network. 
 
Virtual internships increase accessibility in the world of work so that everyone has a chance to not only participate but to thrive.
Internship Placement
Enrolled students  will work with UMD and CAPA program staff throughout the internship placement process.  You will share your professional interests and career goals to develop an application packet that will be shared with  international, regional, or local companies, charities, and governmental organizations around the globe. Your guaranteed placement will ensure that you have the opportunity to grow in your desired skill areas and help you succeed as a global professional.
Internship placements are available for all majors in a wide range of industries and positions.  Responsibilities could include:  
Running social media for a dance company in London supporting people with learning disabilities
Working with Irish screen directors and executives in the Irish film and US television industries
Assisting a tourism company in Madrid expand brand awareness and engage their target audience
Researching current trends for an interior design firm in Dublin
Leading a  fundraising campaign for an arts foundation in Barcelona
Creating original design solutions for an Italian company's  global campaign 
Supporting a Sydney-based company in educating students through diversity workshops
These are just a few of the more than 3,000 different positions available for placements.
Support to meet your needs
All placements are part time to give you flexibility with your schedule. You will spend an average of 22.5 hours per week with your internship placement for 6 weeks. A dedicated site supervisor positioned within the host organization is also available to mentor students throughout the program.
The comprehensive Pre-placement Orientation prepares students for a fulfilling and successful Virtual Global Internship, and includes training in:
Communication tools, including Zoom and Google Hangouts
Presentation technologies, including how to create narrated Google Slides presentations
Digital recording programs such as Screencast-O-Matic for synchronous and asynchronous use
To complement the practical, hands-on experience you'll gain at your internship site, you'll also participate in the required weekly Online Global Internship Course through which you'll earn 3 academic credits for ARHU486 (for students with 60+ credits) or ARHU286 (for students with less than 60 credits).
Delivered by dynamic academic coaches and mentors and overseen by a UMD instructor, the course focuses on building personal and professional skills to prepare students to articulate their learning to future employers and or graduate schools. The virtual in-class active learning approach gives students the opportunity to discuss and analyze theories and models of work and to compare and contrast global organizational behavior and management in a cross-cultural context. A variety of teaching and learning activities will be used, for example: lecture, workshop, discussion, informal and formal presentations, self-guided and guided research, and mock interviews.
 
Students from all majors and with a cumulative GPA of 2.5 or higher are eligible for this program. 
Students with less than 60 credits are eligible for ARHU268. 
Students with 60 or more credits are eligible for ARHU486. 
 
*Please note this program qualifies for eligible Pell Grant recipients to apply for the Gilman International Scholarship. The application deadline is March 1, 2022!*
Costs listed are for summer 2022.

Billable Costs
Billable costs are charged to your student account. They are due based on the Office of Student Financial Services and Cashiering's payment schedule. Be sure to check your statements when they are available.
Education Abroad Fee
$250
 This fee is charged to your account when the application status is changed from "Accepted" to "Committed." This fee includes Education Abroad services including registration, billing, advising, internship placement services and pre-departure orientation.
Tuition
Resident: $1,495
This fee is charged to your UMD account upon course registration. This fee includes: Tuition, academic and advising support, course related activities, and teaching services.
Total Program Fee
Resident: $1,745
Malik Blue is an International Education Advisor and coordinates the administration of the Global Virtual Internships program. Malik advises prospective students and can answer questions about the program.  He coordinates program admissions, course registration, and other logistical aspects of the program.
| Term | Year | Application Deadline | Admission Notification | Program Start | Program End |
| --- | --- | --- | --- | --- | --- |
| Summerterm | 2022 | 03/01/2022 | 01/15/2022 | | |