Arts & Humanities-in-London (United Kingdom)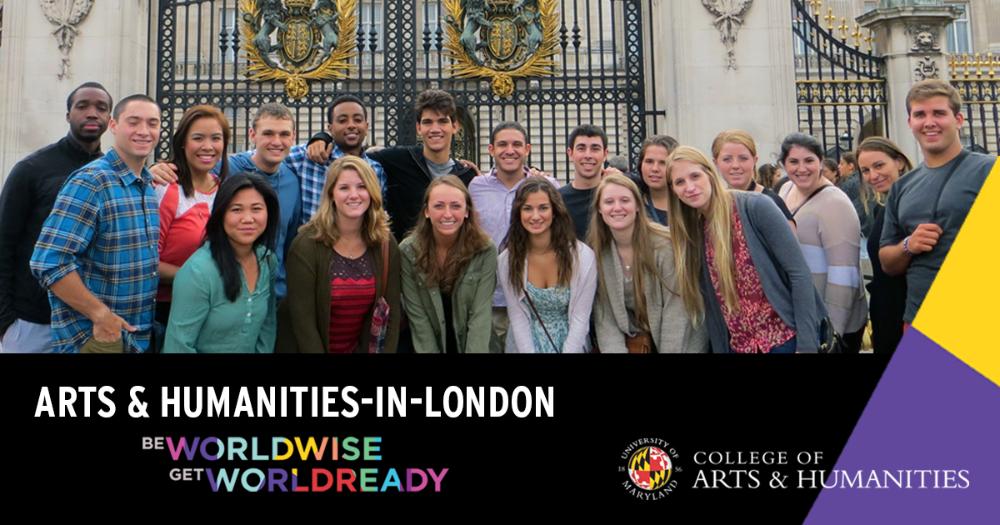 London is a global metropolis where history meets modern architecture, culture and heritage sites. As part of your Arts & Humanities-in-London program, London is your classroom and you will experience the arts and humanities in practice: explore world-class museums like the British Museum and Tate Modern, witness the legacy of London theater from Shakespeare's Globe to the West End, visit historical sites throughout the city and beyond, including Buckingham Palace, Westminster Abbey, and Stonehenge, take advantage of the opportunity to live and work as locals do in one of the world's most diverse cities. You'll immerse yourself in the great ideas of literary, artistic and cultural history, and in the process, develop your creativity, critical and analytical thinking, problem solving and communication skills—qualities crucial for the next generation of artists, entrepreneurs, diplomats, archivists, journalists, scholars, lawyers, doctors and more.
In partnership with the University of Maryland College of Arts & Humanities, this program was designed as a part of the Be Worldwise, Get Worldready initiative to integrate global career readiness and an intercultural lens into your college experience. The Arts & Humanities in London experience is designed around a 3-credit internship at a London-based organization that aligns with your interests and professional goals. Through this internship, you will gain important professional and cultural skills to prepare you for the expanding global workplace. Placements are geared towards smaller organizations where you will see first hand how your work can make an impact. You will also enroll in three, 3-credit courses at Queen Mary University of London (QMUL), a leading research institution located in the diverse East End (students who choose to opt out of the internship opportunity will take four, 3-credit courses at QMUL). A large selection of Arts & Humanities-related courses are available at QMUL, but students of all majors are eligible to apply for the program.
Students are encouraged to apply for the Education Abroad Scholarship - ARHU Scholarship, which awards both merit and need-based scholarships for study abroad programs. 
 
In order to participate in this program, you must meet the following eligibility criteria:
You must have a minimum GPA of 3.0
Be 18 years or older at time of departure
In good judicial standing, without any registration blocks to participate in this program. 
While this program is especially suited for students studying the arts and humanities, all majors, sophomores, juniors, and seniors are eligible to apply to this program. 
 
If you are interested in this program but do not meet the eligibility requirements, make an appointment with an EA advisor to discuss.
 
Visit the
Academics & Study Abroad page
which outlines key considerations for your academic planning as you navigate different phases of study abroad:
The Arts & Humanities-in-London academic program offers you flexibility to advance your studies in a wide range of disciplines while also deepening your global competency. The program incorporates a 3-credit internship to enhance your international experience. With opportunity in over 3000 organizations in 70+ industries, there is no better way to enrich your global learning. 
UMD students will enroll full-time at our partner university, Queen Mary University of London. Queen Mary is an inclusive and diverse institution located in London's East End. Some of the exciting QMUL modules approved by UMD for resident credit include:
ARHX313: London and Its Museums
ENGX205: Creative Writing: Prose Fiction
PHPX302/PHIX302: Human Rights in History: Origins, Foundations and Prospects
ENGX416: James Baldwin and American Civil Rights
THEX100: London/Culture/Performance
A wide range of course offerings allows students to diversify their academic plan and maximize London as a learning environment. Students may also choose a concentration of coursework in the arts, selecting unique performance courses in dance, music, theatre, as well as courses in the visual arts, or a concentration in humanities, exploring history, literature and cultures of the world. With either focus, students will benefit from learning how arts and humanities are inextricably connected to help you investigate human experience, thought, expression and imagination.
 

Arts & Humanities-in-London Academic Program Structure
Internship Track
3 QMUL modules
+
3-credit internship
Coursework Only Track
4 QMUL modules
Modules at QMUL are taught by local or international faculty who provide students with expertise in their respective discipline and often act as a cultural interpreter as students explore the socio-political and cultural aspects of their study abroad semester.
Browse QMUL courses that have been evaluated for UMD credits in the Study Abroad Course Database:
 
Please refer to the Arts & Humanities-in-London Academic Overview to read more about the academic structure, courses, and academic policies. There may be other course offerings on this program that are not currently listed in the Study Abroad Course Database (SACD). If you are interested in taking a course not listed in the SACD, please submit a transfer credit evaluation request.
Credit
Students must be enrolled in at least 12 UMD credits (60 QMUL credits) while abroad to maintain full-time status. 
 
| | |
| --- | --- |
| QMUL Credit  |  UMD Credit |
| 15 credits  |  3 UMD credits |
| 60 credits |  12 UMD credits |
Grading Scale

| | |
| --- | --- |
| QMUL Grade |  UMD Grade |
| 80.0 - 100 |  A+ |
| 70.0 - 80 |  A |
| 65.0 - 69.9 |  A- |
| 60.0 - 64.9 |  B+ |
| 55.0 - 59.9 |  B |
| 50.0 - 54.9  |  B- |
| 49.0 - 49.9  |  C+ |
| 45.0 - 48.9 |  C |
| 40.0 - 44.9 / E  |  C- |
| Lower than 40 |  F |
Internship  
Through Arts & Humanities-in-London, you'll work with UMD's partner organization, CEA CAPA, to land an internship placement that directly connects to your interests and career goals with high profile organizations and businesses in London. Students will earn 3 credits for ARHU486 or ARHU286, and gain competency to excel in your future career. Students intern at their placements for 20 hours a week, usually spread out over the course of 2.5 days.
Internship placements are available for all majors in a wide range of industries and positions. Responsibilities could include:
Designing costumes or constructing sets for productions at a local London theater
Crafting public relations campaigns at one of the UK's premiere communications agencies
Curating exhibits and conducting research at one of London's many world-class museums
Supporting event coordination and execution at one of Europe's leading schools of modern music
Promote social care and fundraising initiatives for a London-based women's rights and international development organization
Participating in an internship during your study abroad will give you an edge as you enter the job market and help you build the skills employers are demanding of applicants. During this internship you can expect to:
Learn how to effectively articulate your learning and newly developed skills to grad schools and hiring managers.
Collaborate with and learn from professionals in your host country.
Gain experience in your field from a global perspective.
Gain exposure to, understanding of, and appreciation for diverse working cultures and practices.
Develop intercultural communication skills.
Perform meaningful work in a fast-paced, diverse global city.
Build relationships with international references.
Develop foreign language knowledge (select locations).
Earn academic credit.
Build your resume.
NOTE: Students who wish to complete an internship in London MUST apply for a student visa in order to work while in the UK. This process can take several weeks and is an extra cost.
Students will indicate their interest in the internship track during the application phase. Once students have been accepted and committed to the program, CEA CAPA will work with students to begin the internship placement process. Please note that once this process begins, students will not be able to withdraw from the internship and switch to the coursework-only track without a withdrawal fee.
UMD students will be housed in Queen Mary residence halls where you will experience campus life while living in one of the most exciting cities in the world. Queen Mary offers a variety of room types in their residence halls, including ensuite and non-ensuite options, and shared facilities with other Queen Mary students. All bedrooms are furnished with access to WiFi, laundry and a fully-equipped kitchen.
Students have access to all the resources and amenities of a Queen Mary student, including library access, residential services, support services and the student union. Queen Mary student union runs a wide range of activities, student groups and societies, from volunteering and fundraising to sport and student media production that you are encouraged to take advantage of.
Students must apply for QMUL accommodation by the stated deadline after receiving an admissions offer from QMUL. The cost of housing will be billed to students' Testudo accounts, with the exception of a housing deposit to QMUL (£400), which students will be responsible for themselves. Students will be required to make this payment to QMUL in order to accept their offer of housing. 
Spring Budget
Costs listed are for spring 2024.
Application Fee
$25
Billable Costs
Billable costs are charged to your student account. They are due based on the Office of Student Financial Services and Cashiering's payment schedule. Be sure to check your statements when they are available.
Tuition
$12,691
This fee is charged to your UMD account upon course registration. This fee includes: Tuition, academic and advising support, course related activities, on-campus and in-country orientations, and teaching services.
TOTAL PROGRAM FEE
$12,691
Education Abroad Fee
$1,750
This fee is charged to your account when the application status is changed from "Accepted" to "Committed." This fee includes Education Abroad services including registration, billing, advising, risk management, and pre-departure orientation.
International Health Insurance
$250
Housing Fee (billable to UMD account)
$3,213 - $5,229
Out-of-pocket Costs
Housing deposit (estimate)
$380
Meals (estimate)
$2,500
Passport
$165
Expedited Passport Processing
$60
Education Abroad strongly advises expedited processing for new or renewal passport applications due to current delays with processing times. 
Visa
$160
Roundtrip Airfare from DC to Host Country (estimate)
$1,500
In-Country Transportation Expense (estimate)
$200
Course Materials (estimate)
$250
Personal/Incidental Expenses (estimate)
$2,100
TOTAL ESTIMATED COST OF ATTENDANCE:
$22,006
Fall Budget
Costs listed are for Fall 2023.
Tuition
$13,508
EA Fee
$1,200
International health insurance
$250
Additional UMD Billable Costs
$0
TOTAL PROGRAM FEE
$13,508
Housing Fee (billable to UMD account)
$3,213 - $5,229
Out of pocket expenses (estimate)
 
Meals (estimate)
$2,500
Books & Supplies (estimate)
$250
Personal Expenses (estimate)
$2,100
Local Travel (estimate)
$200
Passport
$165
Expedited Passport Processing
$60

Education Abroad strongly advises expedited processing for new or renewal passport applications due to current delays with processing times.

Visa

$160

Roundtrip International Airfare (from MD to DC to host country) (estimate)

$2,500

Total Cost of Attendance (estimate)
$22,273
You can use the cost of attendance comparison worksheet to view how study abroad programs compare to each other and the amount you pay on campus at UMD. As always, your EA advisor is available help you complete this worksheet and find affordable programs that fit your study abroad goals.
Please refer to the following resources for more information on funding study abroad:
*Education Abroad strongly recommends applying for the Education Abroad Scholarship, which includes merit and need-based scholarships especially for ARHU majors.
PLEASE NOTE: All University of Maryland study abroad programs are financially self-supporting and, therefore, subject to cancelation due to low enrollment.
Sally Roberts is an International Education Advisor and coordinates the Arts & Humanities-in-London program. Sally advises prospective students and can answer questions about the program. She coordinate program admissions, course registration, pre-departure orientation, and other logistical aspects of the program. Sally is the primary point of contact for students before they go to London and upon return to College Park.
| Term | Year | Application Deadline | Admission Notification | Program Start | Program End |
| --- | --- | --- | --- | --- | --- |
| Fall | 2023 | 03/15/2023 | 01/20/2023 | 09/16/2023 | 12/16/2023 |
| Spring | 2024 | 09/27/2023 | 09/26/2023 | 01/13/2024 | 05/31/2024 |