UMD-Winter: Nicaragua: Sustainable Agriculture and Environment (ANSC)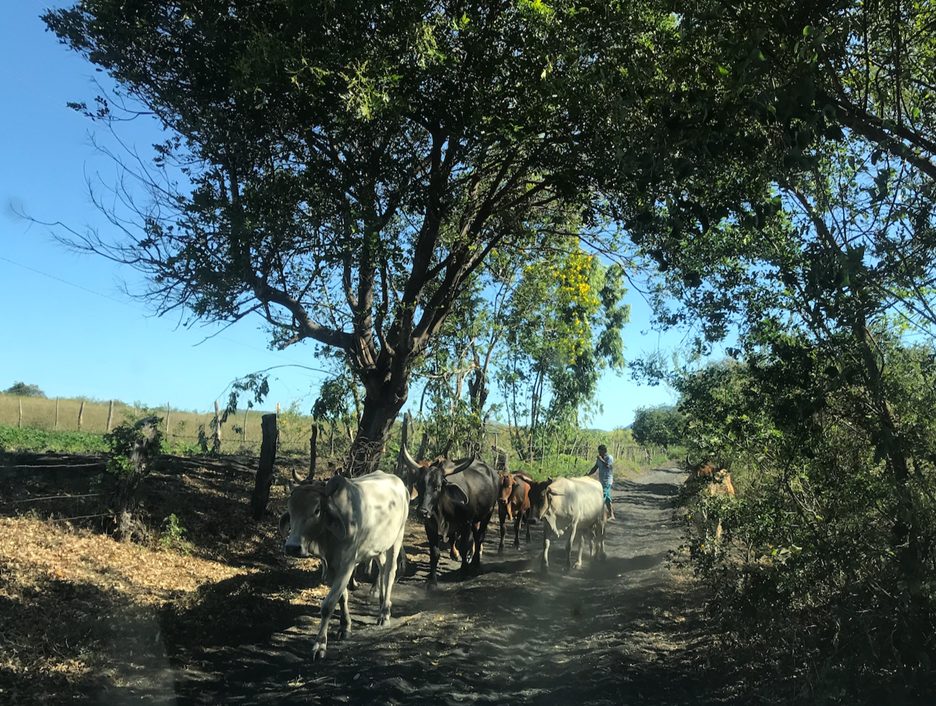 Come visit Nicaragua, the land of lakes and volcanoes and a leading example of sustainable development. Learn about practices and policies to mitigate the effects of climate change and to decrease greenhouse gas emissions. Nicaragua produces 90% of its own food and exports coffee, beef, and fruit. It has decreased poverty and illiteracy while also protecting its environment. Visit farms and cooperatives, rain forests, volcanoes, and pristine volcanic lakes.
Enrollment in a 1-credit seminar (ANSC371) is required in Fall Semester. Some reading, online discussion, and writing assignments will be required before and after the travel portion of the class.
Visit the Winter 2024 Nicaragua program website (TerpsNica.org) for more information!
Info Session & Seminar - Wednesday, September 6th at 3:30 pm - Room 0402, Animal Science Building
Prerequisite: Enroll in ANSC 371: Sustainable Agriculture and Environment in Nicaragua: Seminar (1 credit) on Testudo for Fall Semester. (Monday at 3:30-4:45 or Asynchronous On-line).
You must be in good academic and judicial standing and you must not have any registration blocks to participate in this program. The minimum GPA for this program is listed above.
UMD and Non-UMD undergraduate and graduate students are eligible to apply. 
If you are interested in this program but do not meet the eligibility requirements, reach out to the program leader (listed in the Contacts tab) to discuss your interest in the program. Additional students may be added if space permits it.
After you commit to the study abroad program, Education Abroad will enroll you in the
following (2) credit UMD course for Winter semester:
ANSC 372: Sustainable Agriculture and Environment in Nicaragua: Travel Abroad
Taken after ANSC 371, the two courses* will provide 3 credits toward:
Upper-Level Animal Science Elective.
Sustainability Minor Elective (Social and Human Dimensions).
Gen Ed: Diversity Cultural Competence (DVCC), and
Gen Ed: Scholarship in Practice (DSSP).
The credit you earn during this program will count as resident credit.
There will be a pre-departure meeting before the end of the fall semester.
*NOTES:
Students who are enrolled in ANSC 371 (Fall Semester, 1 credit) will be given priority to enroll in ANSC 372. Completion of both courses in order is required for 3 credits applied to General Education Requirements: Diversity Cultural Competence (DVCC) and Scholarship in Practice (DSSP). ANSC 371 can be added during Add/Drop Period in Fall. If space permits, enrollment in only ANSC 372 may be permitted but no Gen Ed credits will be conferred for the course.
 
More information can be found on the course website: https://terpsnica.org/
You will stay in shared accommodations (with other students) in academic centers, also with families, and in hotels. Most but not all accommodations include WIFI.
Costs listed are for winterterm 2024 
Please refer to the following resources for funding study abroad:
Financial Aid
Scholarships
Financial Commitment, Withdrawals and Refunds Policy
 

APPLICATION FEE
$25
This is a non-refundable fee to submit an application.
Housing Fee

$255

This fee represents the housing provided during the program.

Tuition

$2,071

These are the instructional costs which include tuition, in-country transportation, course related activities, group meals, and teaching services.

PROGRAM FEE 

$2,326

This fee is charged to your student account and is based on our program deadlines. Please direct any additional questions to the Office of Student Financial Services and Cashiering.
Education Abroad Fee
$700
This is a non-refundable fee charged to your account when the application status changes from "Accepted to "Committed." This includes services provided by Education Abroad such as registration, billing, advising, risk management, and pre-departure orientation.
International Health Insurance
$55
This coverage is required and complements students' regular U.S. primary health insurance coverage.
Meals (estimate)

$50

Passport

$165

Expedited Passport Processing (recommended)
$60

Visa

$10

Roundtrip airfare (estimate)

$900

Course materials

$25

Incidental expenses

$150

Trip cancelation insurance (optional)

$200

ESTIMATED OUT OF POCKET EXPENSES

$1,560
*Non-UMD graduate students will need to pay a $75 application fee to the UMD Graduate School to participate in this program.

TOTAL ESTIMATED COST OF ATTENDANCE
$4,641
PLEASE NOTE: All University of Maryland study abroad programs are financially self-supporting and, therefore, subject to cancellation due to low enrollment.
Richard Kohn, Program Director, is Professor of Animal Science at the University of Maryland.  He has more than 30 years of experience in research, extension, and teaching about the effects of agriculture on air and water quality and climate change.
Erika Takeo, Program Co-Leader, has been based in Nicaragua since 2017. She coordinates the Friends of ATC solidarity network which hosts international brigades that study in rural Nicaragua and at the ATC's system of agricultural schools. She is also part of the staff of the continental operating secretariat of the Latin American Coordination of Rural Organizations (CLOC), the expression of the global movement La Vía Campesina in Latin America.
For course, itinerary or in-country information, please contact the Program Director. For general questions or assistance with applying, contact EA Short-term Programs.
As a part of this program, you will engage in the following activities:
Visit historic sites and museums about Nicaragua's history and culture.
Participate in field laboratories on agroecology at the ATC schools.
Visit a cross section of Nicaraguan farms, cooperatives, and nature preserves
| Term | Year | Application Deadline | Admission Notification | Program Start | Program End |
| --- | --- | --- | --- | --- | --- |
| Winterterm | 2024 | 10/01/2023 | 10/11/2023 | 01/02/2024 | 01/16/2024 |