UMD-Winter: Vietnam: Climate-Resilient Development: Vietnam's Mekong Delta Region (AREC/ENES)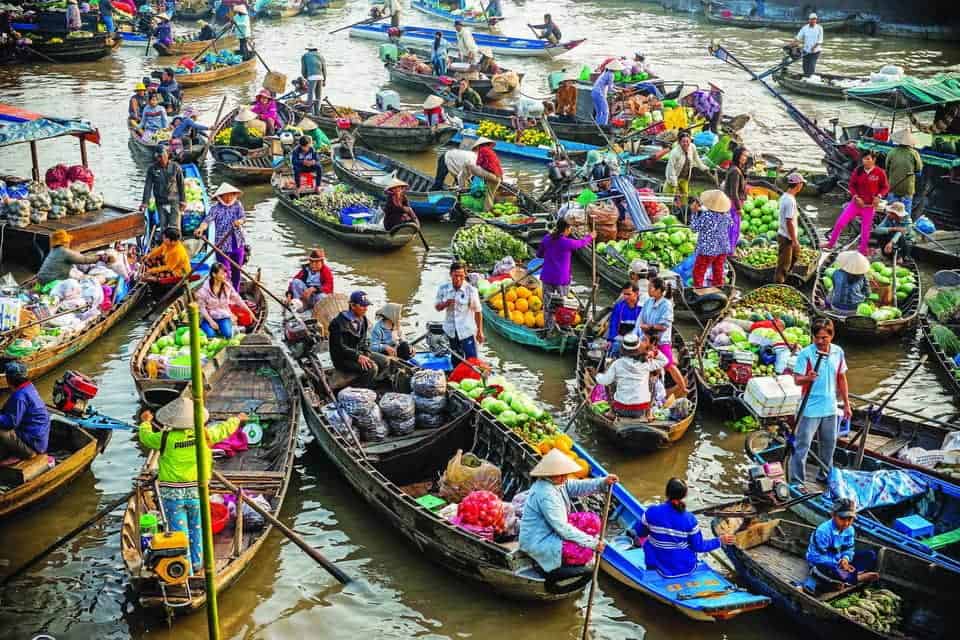 Would you like to experience how climate change is impacting communities in a rapidly-growing developing country and learn about measures which are being taken to adapt to or otherwise cope with the emerging risks? Over recent decades, Vietnam's Mekong Delta region has emerged as one of the world's most productive agricultural areas, resulting in high levels of trade and major progress in poverty reduction. Yet, this region's people, economy, and infrastructure are highly vulnerable to the impacts of climate change. You will see what this means on the ground and learn about what people are doing to anticipate and respond to these changes. This course will help students meet their academic course requirements plus satisfy a need for adventure. 
By participating in this program, you will:
Increase your understanding of the multidimensional impacts of climate change on communities in developing countries and how these impacts are perceived by a wide set of stakeholders;
Gain an understanding of the principles and various applications of climate resilient development planning, policies and programs in relation to agriculture and other sectors of an economy
Apply critical thinking skills to discern the factors which are influencing the effectiveness of various climate-smart initiatives being supported by the government and international development partners  
Add These Upcoming Information Sessions to Your Calendar!
Time: Sept 8, 2023 1:00 PM
H.J. Patterson Hall, HVP-1102 
Time: Sep 13, 2023 4:00 PM 
Zoom Meeting: https://umd.zoom.us/j/6435359773?pwd=ZTlLbkdJMTNXU0ZPbHZHK25GV2pHZz09
Meeting ID: 643 535 9773
Passcode: 1sgS7c
Time: Sep 18, 2023 4:30 PM 
Zoom Meeting: https://umd.zoom.us/j/6435359773?pwd=ZTlLbkdJMTNXU0ZPbHZHK25GV2pHZz09
Meeting ID: 643 535 9773
Passcode: 1sgS7c
You must be in good academic and judicial standing and you must not have any registration blocks to participate in this program. The minimum GPA for this program is listed above.
UMD and Non-UMD Freshmen, Sophomore, Junior, and Senior students are eligible to apply.
If you are interested in this program but do not meet the eligibility requirements, reach out to the Program Leader (listed in the Contacts tab) to discuss your interest in the program.
After you commit to the program, Education Abroad will enroll you in one of the following three (3) credit UMD courses:
AREC 356: Climate-Resilient Development: Vietnam's Mekong Delta Region
The course is cross-listed as ENES 458 and approved to fulfill the following engineering requirements:
Computer Engineering: Category F Elective
Electrical Engineering: GTE: General Technical Elective
Fire Protection Engineering: Technical Elective
Mechanical Engineering: TECH4XX out-of-major technical elective
The courses your complete during this program will count as resident credit.
Students will have shared hotel accommodations in Ho Chi Minh City, Can Tho, and the provincial cities which will be included on the field trip itinerary.
Costs listed are for winterterm 2024
Please refer to the following resources for funding study abroad:
Financial Aid
Scholarships
Financial Policies
*Please note this program qualifies for eligible Pell Grant recipients to apply for the Gilman International Scholarship. Online applications will open mid-August and close on Thursday, October 5, 2023, at 11:59pm PT.'
 

APPLICATION FEE
$25
This is a non-refundable fee to submit an application.
Education Abroad Fee

$700

This is a non-refundable fee charged to your account when the application status changes from "Accepted to "Committed." This includes services provided by Education Abroad such as registration, billing, advising, risk management, and pre-departure orientation.

International Health Insurance

$55

This coverage is required and complements students' regular U.S. primary health insurance coverage.

Program Fee

Housing Fee

$516

This fee represents the housing provided during the program.
Activities
$541

Tuition

$1,921

These are the instructional costs which include tuition, in-country transportation, course related activities, group meals, and teaching services.

Program Fee Total

$2,978

 BILLABLE COSTS TOTAL

$3,733

This fee is charged to your student account and is based on our program deadlines. Please direct any additional questions to the Office of Student Financial Services and Cashiering.
Meals (estimate)

$200

Passport

$165

Expedited Passport Processing (recommended)
  $60

Visa

$40

Roundtrip airfare (estimate)

$2,000

Course Materials

$50

Trip Cancelation Insurance (optional)

$200

Personal/incidental Expenses

$150

ESTIMATED OUT OF POCKET EXPENSES

$2,865
*Non-UMD graduate students will need to pay a $75 application fee to the UMD Graduate School to participate in this program.

TOTAL ESTIMATED COST OF ATTENDANCE
$6,598
PLEASE NOTE: All University of Maryland study abroad programs are financially self-supporting and, therefore, subject to cancellation due to low enrollment.
Steven Jaffee, Program Leader, teaches the course on Global Poverty and Economic Development in the Department of Agricultural and Resource Economics. Before joining the faculty at the University of Maryland, he worked for nearly three decades at the World Bank undertaking research and advising on policies and investments in relation to many topics related to agricultural and rural development, trade, and food system modernization. Since 2010, a significant part of this work has related to Vietnam and other countries in emerging Asia. 
Many lectures and field visits will be led by senior faculty at Can Tho University, representing a range of scientific and social science disciplines.
For course, itinerary or in-country information, please contact the Program Leader. For general questions or assistance with applying, contact EA Short-term Programs
As a part of this program, you will engage in the following activities:
Visit floating and traditional community food markets and sites of cultural significance
Visit nature reserves and other protected areas and partake in restoration activities
Engage in discussions with farmers, community groups, and Vietnamese students
Be guided by practitioners through the varied approaches being used to foster more sustainable natural resources management and livelihoods
| Term | Year | Application Deadline | Admission Notification | Program Start | Program End |
| --- | --- | --- | --- | --- | --- |
| Winterterm | 2024 | 10/01/2023 | 10/11/2023 | 12/28/2023 | 01/19/2024 |