UMD-Summer: Kenya: Agricultural Business and Sustainable Food Production (AREC)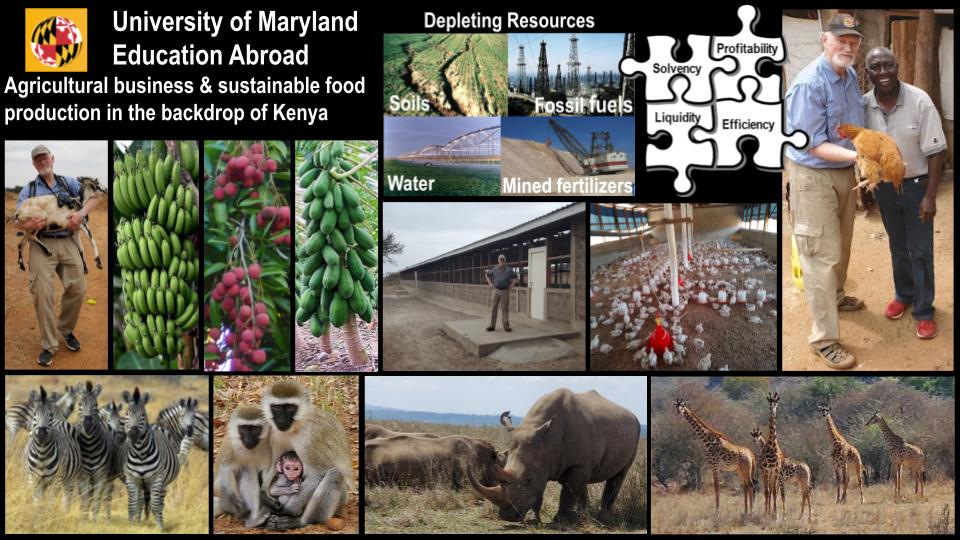 Agriculture, sustainability, economics, and management are combined and set in the context of Kenya. You will learn business skills that will also be applicable to your personal life. You will experience short lectures interspersed with group and individual work time. You will participate in a team project to develop a business plan for a Kenya agriculture enterprise. You will travel on field trips to see bananas, papaya, mangos, vegetables, goats, poultry, and cattle produced on Kenya farms. And of course you will see giraffes, zebras, wildebeests, and other animals in the wild. There will be extracurricular, cultural, and tourist activities. This Africa immersion experience will suck you in mentally, emotionally, psychologically, physically, and spiritually. Toto's "Africa" lyrics will occupy your mind - "It's gonna take a lot to drag me away from you"
Skills and concepts you will learn in this program
How to evaluate agricultural sustainability.
Industrial versus traditional agriculture - the pros and cons of both.
The Management Pyramid - skills for business and personal life. 
Business planning - The production plan, marketing plan, and financial plan.
Economic and financial tools - Time value of money, amortizing loans, credit management, partial budgeting, machinery economics, valuing land.
Human resource management 
There is a mandatory on-campus orientation during spring semester 2023. A full Syllabus/Schedule is available.
Lunch in Kenya: Brown bag lunch lectures
Bring your lunch and meet with Program Leader Dale Johnson as he discusses living in Kenya (link).
Date: Wednesdays, February - March 22, 2022
Time: 12:30 - 1:00 p.m.
Location: Symons Hall 0118
 
You must be in good academic and judicial standing and you must not have any registration blocks to participate in this program. The minimum GPA for this program is listed above.
UMD and Junior, Senior and graduate students are eligible to apply.
If you are interested in this program but do not meet the eligibility requirements, reach out to the Program Leader (listed in the Contacts tab) to discuss your interest in the program.
After you commit to the program, Education Abroad will enroll you in one of the following three (3) credit UMD courses:
AREC306 Farm Management and Sustainable Food Production
The courses your complete during this program will count as resident credit.
Students will lodge in the Daystar University Dormitories and take meals at the university cafeteria. 
Please refer to the following resources for funding study abroad:
Financial Aid
Scholarships
Financial Policies
*Please note this program qualifies for eligible Pell Grant recipients to apply for the Gilman International Scholarship. Online applications will open mid-January and close on Thursday, March 9, 2023, at 11:59pm Pacific Time.
Summer 2023 costs below.

Education Abroad Fee
$500
This is a non-refundable fee charged to your account when the application status changes from "Accepted to "Committed." This includes services provided by Education Abroad such as registration, billing, advising, risk management, and pre-departure orientation.
International Health Insurance
$50
This coverage is required and complements students' regular U.S. primary health insurance coverage.
Program Fee
Housing Fee
$733
This fee represents the housing provided during the program.
Tuition
$1,876
These are the instructional costs which include tuition, in-country transportation, course related activities, group meals, and teaching services.
Program Fee Total
$2,609
 BILLABLE COSTS TOTAL
$3,159
This fee is charged to your student account and is based on our program deadlines. Please direct any additional questions to the Office of Student Financial Services and Cashiering.
Meals (estimate)
$0
Passport
$165
Visa
$52
Roundtrip airfare (estimate)
$1,400
Course materials
$0
Incidental expenses
$300
Trip cancelation insurance (optional)
$180
Immunizations
$300
ESTIMATED OUT OF POCKET EXPENSES
$2,397
*Non-UMD graduate students will need to pay a $75 application fee to the UMD Graduate School to participate in this program.

TOTAL ESTIMATED COST OF ATTENDANCE
$5,606
PLEASE NOTE: All University of Maryland study abroad programs are financially self-supporting and, therefore, subject to cancellation due to low enrollment.
Dale Johnson is an Agriculturalist and Farm Management Specialist for the University of Maryland (since 1985). He has toured, worked, and conducted agricultural tours in 30 countries. He taught at Daystar University, Athi River, Kenya in the fall of 2022 and is conducting agricultural projects in Kenya. He and his wife raised six children on a small farm in western Maryland. They produce much of their own vegetables and fruit in a large garden and have kept broilers, layers, turkeys, cattle, goats, rabbits, dogs, cats, and horses.
For course, itinerary or in-country information, please contact the Program Leader. For general questions or assistance with applying, contact EA Short-term Programs
As a part of this program, you will engage in the following activities:
Course related agricultural field trips to Kenyan farms.
Nairobi National Park, elephant orphanage, and giraffe center.
Mombasa coastal city on the Indian Ocean. 
Cultural immersion and extracurricular activities at Daystar University.
| Term | Year | Application Deadline | Admission Notification | Program Start | Program End |
| --- | --- | --- | --- | --- | --- |
| Summerterm | 2023 | 03/01/2023 | 03/13/2023 | 06/04/2023 | 06/24/2023 |