UMD-Spring Break: Spain: El Camino de Santiago de Compostela/Saint James Way (SPAN)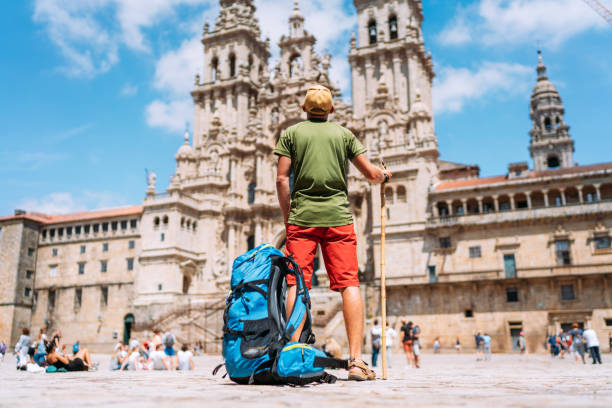 Solvitur ambulando, "It is resolved by walking." Since Medieval times pilgrimage have taken into walking the roads that lead to Santiago the Compostela which its distinctive for developing its own culture and way of life which is so different from the rest of Spain. Today, what we call "The Road to Santiago" or Saint James Way was a complex network of roads that started in France and ended in northern Spain. Its last 90 kilometers, and the focus of this course, was probably the most travelled road in the European Middle Ages and was a great source of cultural exchanges. And even though there are many roads that lead to Santiago, there is one factor that have not changed: the interaction between pilgrims sharing through the rich cultural, literary, historical, and artistic variety that connects each city. Thus, this pilgrimage that characterizes the Santiago de Compostela is not exclusively religious. The Camino de Santiago is distinctive, since Medieval times, for it strings of ancient Roman ruins, art, medieval architecture, which is enhanced by its unique geological features and the native flora associated with the histories and folklores of the landscape. For academic purposes, UMD students will be culturally and academically motivated pilgrims, although this does not preclude other personal motives for making the journey. Students will discover what centuries of pilgrims have felt, experienced, and considered as one walks in their footsteps and experiences the magical moments of the way. At the end of the journey, students will receive La Compostela, an official document issued by the pilgrimage office in Santiago marking their accomplishment.
What To Expect? Participants on El Camino de Santiago de Compostela (or Saint James Way) will explore both the historical but also the artistic, folkloric, and literary traditions during this one‐week focusing on the importance of the pilgrimage road to Santiago de Compostela and the relevance of this 1000‐year‐old tradition to Spain. Through pilgrimage narratives, literature, poetry, music, and direct participation in the Camino de Santiago, this course will also explore the importance of pilgrimage within medieval society which has transcended throughout the centuries. We will also consider its impact of today's society and the multicultural pilgrims experience considering the contemporary importance of pilgrimage of the Camino from historical, political cultural, and religious perspectives.
Keep In Mind: This program is designed to allow you to interact with the local culture and living history of the El Camino. Students will walk a total of 56 miles (approx. 90 kms) from Portomarín to the shrine of St. James. Expect a medium paced walk during the pilgrimage. This is a medium to high impact walking trek on unpaved, rocky, and uneven country dirt roads. It is not suitable for students that require special assistance. Expect to walk between 20 to 25 miles per day.
INFO SESSION
Wednesday, September 13th; 3:30pm
Zoom link https://umd.zoom.us/my/ayerdan Meeting ID 774 767 5825
Access the slide deck from this session here.
You must be in good academic and judicial standing and you must not have any registration blocks to participate in this program. The minimum GPA for this program is listed above.
This course is taught in English. There is no Spanish language pre-requisite. UMD freshmen, juniors and seniors are eligible to apply. (Recommended but not necessary some basic Spanish which could be helpful as we walk from village to village. See below for Survival Spanish language resources).
Resources for Survival Spanish while abroad:
If you are interested in this program but do not meet the eligibility requirements, reach out to the program director (listed in the Contacts tab) to discuss your interest in the program.
After you commit to the program, Education Abroad will enroll you in the following (3) credit UMD course:
SPAN169 or equivalent
Spanish majors and minors should meet with the Academic Advisor for other course credit.
After admission to the program, you will meet with the faculty director to discuss the program requirements including the final project of the course. This program also includes four pre-trip sessions (2/8/24, 2/22/24, 3/7/24 and 3/14/24). In addition, there will be an online course space (ELMS) that will include pre-departure discussions, prompt questions, and a scavenger hunt clues as part of the course academic content.
 
The credit you earn during this program will count as resident credit.
You will stay in hotels, hostels, and rural houses upon arrival and en-route during the
pilgrimage. Expect to share bathrooms and have a roommate.
ALL COST INFORMATION REPRESENTS 2024 COSTS.
Please refer to the following resources for funding study abroad:
Financial Aid
Scholarships
Financial Policies
*This program qualifies for eligible Pell Grant recipients to apply for the Gilman International Scholarship. Online applications will open in mid-August and are due Thursday, October 5, 2023, at 11:59pm PT.
**A limited number of scholarships of up to $500 each are available to students who apply to this program. Please email Dr. Ginette Eldredge and Dr. Manel Lacorte to be considered.
 
Application Fee
$25
Billable Costs
Billable costs are charged to your student account. They are due based on the Office of Student Financial Services and Cashiering payment schedule. Be sure to check your statements when they are available.
Tuition
$810
This fee is charged to your UMD account upon course registration. This fee includes: Tuition, in-country transportation, course related activities, group meals, and teaching services.
Activities
$375
Housing Fee
$845
This fee represents the housing provided during the program.
TOTAL PROGRAM FEE
$2,030
Education Abroad Fee
$700
This fee is charged to your account when the application status changes from "Accepted" to "Committed." This fee includes Education Abroad services including registration, billing, advising, risk management, and pre-departure orientation.
International Health Insurance (estimate)
$26
Out-of-pocket Costs
Meals (estimate)
$100
Passport
$165
Roundtrip Airfare (estimate)
$1,500
Course Materials
$50
Incidental expenses (estimate)
$180
Optional trip cancelation/interruption Insurance (estimate)
$200
TOTAL ESTIMATED COST OF ATTENDANCE:
$5,011
PLEASE NOTE: All University of Maryland study abroad programs are financially self-supporting and, therefore, subject to cancelation due to low enrollment.
Ginette Alomar Eldredge, PhD, will be your Program Director and will accompany students to Spain. Dr. Eldredge's field of study is Iberian (Medieval from Prehistoric to 1492, and Spanish Golden Age Era 16th and 17th centuries) and Transatlantic Studies (Precolonial to Colonial Times). Her studies focus on the representation of women in the literature of the Middle Ages, which led her to her current project titled: Desire and shame: women and lovesickness in Juan de Flores' Grisel y Mirabella. In May 2017 she earned the degree of Doctor of Philosophy from the University of Maryland, College Park. She also holds a Master's in Spanish Studies from the University of Puerto Rico. In 2002, she relocated to the United States where she has taught Spanish at all levels. She has conducted research at the Universidad Complutense in Madrid, Spain and has published articles in her areas of interest: literature and art history. She lives in Virginia with her two Golden Retrievers: Niebla (Unamuno) and Lexie.
 
For course, itinerary or in-country information, please contact the Program Director. For general questions or assistance with applying, contact EA Short-term Programs.
As a part of this program, you will engage in the following activities:
Intensive and hands on study of Spanish history and culture on El Camino de Santiago.
Pilgrimage across northern Spain towns staring at Portomarín, Palas del Rey, Melide, Arzúa, O Pedrouzo and finishing in Santiago de Compostela.
A full-time local expert will accompany us during all El Camino stages to highlight the sites as we walk.
Scavenger Hunt to find and identify historical and cultural sites during the way. Students should be prepared to be on their feet and to expect moderate to long periods of walking.
Visit to the city of Santiago de Compostela and cathedral.
Note: this is a medium to high impact walking trek on unpaved, rocky, and at times uneven country dirt roads. It is not suitable for students that require special assistance or are not able to walk between 20 to 25 miles per day.
| Term | Year | Application Deadline | Admission Notification | Program Start | Program End |
| --- | --- | --- | --- | --- | --- |
| Spring Break | 2024 | 10/01/2023 | 10/11/2023 | 03/17/2024 | 03/24/2024 |